Auto-Embed Facebook or Youtube Live On Your Website
Facebook Live or Youtube Live are great ways to engage with your audience and build a following. But what about when being live on Facebook or Youtube isn't enough. Maybe you want to be able to stream live from Facebook or Youtube to your website.
What about making it automatic, because you also want to automatically stream from your website every time you go live without having to re-embed a new code over and over. Seems easy enough right? Well it is and it isn't… let me explain.
The Problem

With every video you create on Facebook whether it be live or uploaded, Facebook will include an embed code so it can be viewed form a website or blog. Using this code is simple, just copy and paste it on the page where you would like it to be displayed. It's a great way to share a video and get more views. Here's an example…
OK so what's the problem right? Well with pre-recorded video, it's easy to grab the embed code because the video has already occurred. With a live video, it's happening in real time. So you would have to embed the code after you started your live stream. This is because Facebook generates the code at the time the video is created (well unless you schedule your live stream, but I'll get to that in a bit).
We need to be able to enter one Facebook Live embed code to our website and never have to touch it again. Because, who wants to have to embed a new code every time they go live… sounds like a pain.
FACEBOOK INSTRUCTIONS
With MychurchwebsiteLIVE you can easily have your Facebook Live videos automatically stream on your website every time you are live. Set the embed code once and forget it. No more re-embedding a new code every time you go live.
Connect your Facebook Page to MychurchwebsiteLIVE by registering using your Facebook account. If you prefer to register with MychurchwebsiteLIVE by email, you can connect your Facebook account using the "Connections" page. It really can't be easier. No long complicated set up process. Just connect via Facebook authentication and in less than a minute, you are ready to go.
Next you will create your video player widget. Select the option you prefer and click Create Widget.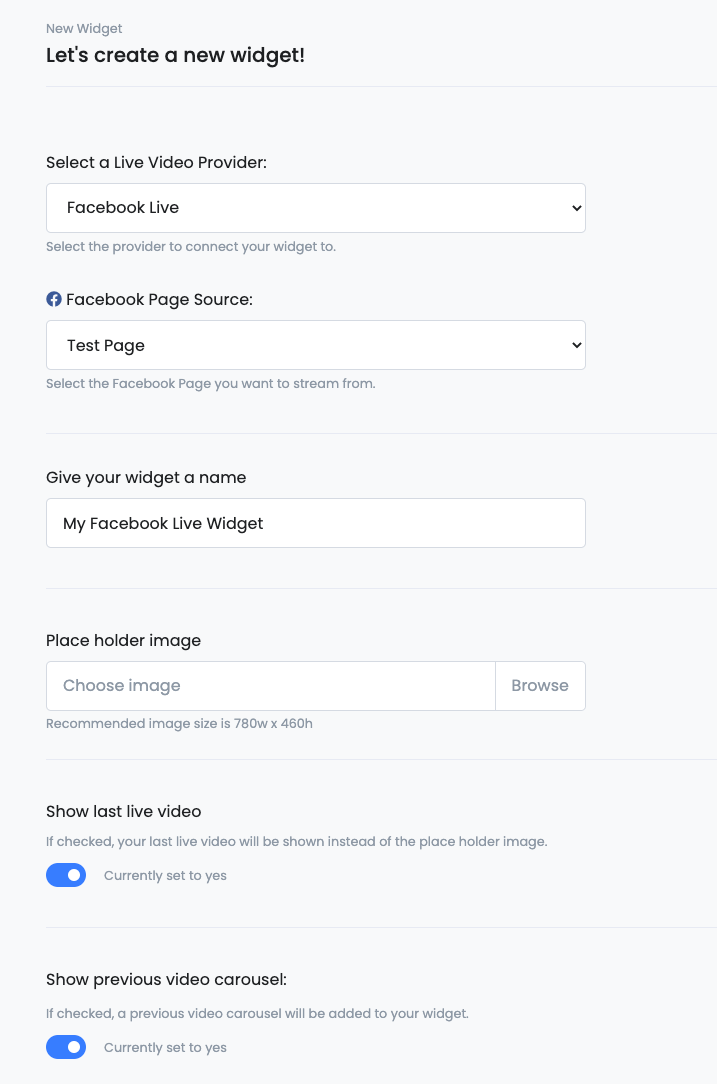 Next, grab the live video player embed code.
Next you just need to place this embed code on the webpage (in the html) where you would like your Facebook Live video to stream. Thats it! Now every time you go live on Facebook you will also automatically live stream from your webpage.
No Page Refresh Required!
Your live stream automatically will start on your website within 1-5 seconds after it is started on Facebook.
Extra Features!
MychurchwebsiteLIVE is full of extra features you won't find with similar services.
Works on virtually any website or CMS
Custom Placeholder Image
Previous Video Carousel
Automatic Start "Near Instant"
Last Recorded video Placeholder
Works with Facebook Premier
One last thing. I mentioned earlier about scheduling your Facebook Live stream. Facebook does allow you to schedule your live stream, and this will generate an embed code you can place on your website before you go live. This is a great feature, however you would still need to replace the embed code every time you schedule a new live stream. So again this is not ideal if you use Facebook Live a lot and need it to be automatic.
Happy Streaming!